What a wonderful time of year! In Rhode Island (where I live) we got our first real snow! My Christmas tree looks like it's going to make it till Christmas, and my family is eating candy while laughing. 
I've watched Elf, and It's a Wonderful Life. I went to a milk and cookie party and laughed at ugly sweaters.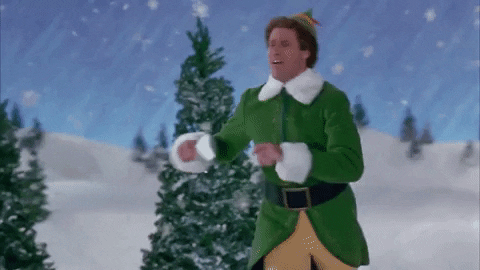 It really is starting to feel like Christmas. 
____________________________________
I love Christmas time. In the past it's been a time I get to see extended family, eat my grandmother(s) amazing food, watch a lot of college bowl games, oh yeah and get presents! 
My extended family is a lot of fun to be around, and it's always been a joy to just hang out with them. I know that is not the situation for a lot of people – but for me it is, and I cherished all those times. 
This year is different. 
It's not just because for the first time in my life I'll be celebrating Christmas with only my immediate family – not extended. It's not that the week before I get to 'enjoy' a 13-hour car ride. It's not that Christmas is on a Sunday. 
It's that the past few months have been really, really, really, really hard on me. 
I know I'm being cryptic – maybe I'll share more openly in a later post, but when I say hard I don't mean "my dog just died" kind of hard. 
I mean an 'I can't sleep at night, not sure where to find peace, don't know what to do, I'm angry, bitter, hurt, and sad' kind of hard. 
____________________________________
I heard a sermon Sunday, where the speaker made fun of my town (it was my boss, so I guess he's allowed too) – but a bigger point he made is that we get distracted all the time in life. We start worshiping things instead of the creator.  Not just around Christmas time – but all the time. 
That's called idolatry. 
But it's not just in the 'stuff' we want. It's in our attempts to control life. To fix people. To fix ourselves. It's when life is hard – and we cut God out.
Which is what I've done. 
I didn't have some crisis of faith, or even stop praying, worshiping, and serving God. In a certain area of life, I simply said "Yeah God I'm not sure you need to be here. How about we go back over here?". 
Do I believe God can bring healing? – Yep. Do I believe He is real? – Yep. Do I trust Him? – Yep. In my head, I believe all these things but with my heart or my actions – I don't know.
I mean if I really believed, why would I cut God out? Why would I try to handle it on my own? Why would I say, "I'm good" to the creator of the world?
Remember? I like control. 
We all do. It's part of our human condition. 
When things go bad, we want to fix it. Sure we pray and fast. Maybe we read the Bible every day, even go to church. However, our relationship with God is really so that we can 'use him' to fix our problems. IF we don't have any? – We are keeping God in our back pocket in case any come up.
Either our relationship with God is for control or we don't have one with him because we don't want to give up control.
Either way, who is in charge? You are.
"…seeking control is not the solution to the human condition but is part of the problem." – Skye Jethani 
There are those rare moments that we realize we are not as in control as we think we are. BUT even the way we talk about it shows we don't get it.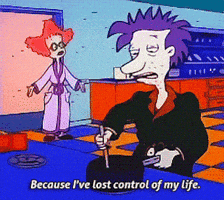 We talk about 'losing control of our life,' how someone has 'lost it,' or 'they are out of control.'
*** Newsflash – You have no control over your life. ***
Doesn't matter what you think you have money, family, stuff, etc. It could all be gone in a second.
This is a sobering thought, so our response to it is usually, 'well I just need more.' We think if we have more than we are more protected, safe, and have more control.
_________________________________
I'm sure you are thinking "Nate, you suck at this whole Christmas joy thing. Way to be a downer."
Just hang with me. Because this is where the incredible joy comes from.
When we realize how little control we have, how we can't fix ourselves, and how messed up we are, – it makes the story of Jesus that more amazing.
I think we hear the story of Jesus so much that we forget how truly miraculous it was. We read things like 'angels, a star, wise men, virgin birth, a great host singing to the shepherds' and we yawn like it's no big deal.
It's a BIG DEAL. But we forget about it because we are distracted. We have more important things to worry about. Not just at Christmas time – but all the time.
Which has been when I've done the past couple of months. I've tried to take care of issues without God. I've said "I got this" instead of saying "God you got this." This is just one of the millions of times I've messed up – yet God still wants to be WITH me.
That is why Christmas is a big deal all year. Not just this month or week, but every single day.
God came down to join us in our life, join us in our struggle, and be WITH us. We were created to be with him, but we run away, so he came to us to restore the relationship.
When life is tough – as it is for me – we should remember to run to that Christmas miracle and thank God he wants to be WITH us.
I can promise you there is great peace and joy when we put God first in our life and stop trying to be in control.
I feel like I've heard that somewhere…..
But the angel said to them, "Do not be afraid. I bring you good news that will cause great joy for all the people. – Luke 2:10
– Have a Merry Christmas!
Nate